Walk through the Bible with us every Sunday morning at 10:30 for Sunday School! All ages welcome!

Preschool aged children's are using the Gospel Light curriculum and playing through the Bible with many hands on activities to help further their understanding of the scriptures!

School Aged Children (K-5th) are exploring scriptures deeper with Ms. Pam! Come dive into scripture and learn more about how the stories can teach you about life!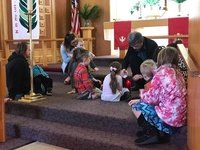 Every church service (at 11:30) offers a children's message where the children come up front and hear a short devotion directly from the Pastor!


We know that sitting through a church service can be tough for the little ones, so we offer children's church for children aged 0-4 during the sermon (dismissed after the children's message)! We will sing songs, do a craft and learn a Bible passage (if they can talk!) and retell the story learning in the children's message using hands on materials and seqencing!